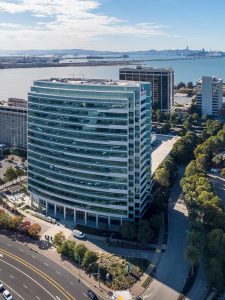 CBRE announced that Canopy Health has signed a lease to move its headquarters to 2100 Powell St., a 349,300-sq.-ft. office building in Emeryville, Calif. Canopy Health will occupy 13,049 sq. ft. on the sixth floor beginning May 2022. Scott Greenwood and Trent Holsman with CBRE's Oakland office represented the landlord, CBRE Investment Management.
Canopy Health is a physician- and hospital-owned medical alliance that provides transparent, affordable care across the Bay Area through partnerships with primary care providers, top-tier academic medical facilities, community hospitals, and medical groups. The company is relocating its operations from 6475 Christie Ave. in Emeryville.
"Canopy Health is a perfect complement to our growing roster of tenants at 2100 Powell. As investors and operators, we are laser focused on the evolving priorities of office occupiers and providing a workplace experience that puts employees' needs first," said Brian Ma, senior director, CBRE Investment Management.
Tenants at 2100 Powell have access to CBRE Investment Management's proprietary Above & BeyondTM for Business (A&B) tenant experience program. The A&B implementation at 2100 Powell includes an on-site A&B concierge who curates a broad range of services. Tenants can also access the exclusive Host mobile app, which creates an employee-centric workplace experience by connecting users to building and neighborhood amenities and services tailored for 2100 Powell.
As part of its lease agreement, Canopy Health will have freeway-facing signage at 2100 Powell, which is located on Powell Street just west of I-80/I-580, bordering the San Francisco Bay. The 16-story office tower has panoramic views of the bay, the Golden Gate Bridge, the Bay Bridge and the Oakland and San Francisco skylines.
At ground level, 2100 Powell has an indoor/outdoor community space with a kitchen and conference area. The building also has a state-of-the-art fitness/wellness center with spa-quality changing rooms and showers and a connected, four-level parking garage with more than 900 spaces. The building was recently named an IREM Certified Sustainable Property (CSP), a designation for properties that support sustainability and planetary health.
Since early December 2021, new tenants relocating to 2100 Powell have leased 30,000 sq. ft.
"Many office tenants are revaluating their workplaces in light of the pandemic, placing a greater emphasis on high-end amenities that create a unique experience for their employees. 2100 Powell's on-site fitness/wellness facilities, indoor-outdoor spaces and tenant-focused concierge and tech tools have driven strong leasing momentum in recent months," said Mr. Greenwood, senior vice president, CBRE.
Canopy Health was represented by Kevin Mechelke and Kristi Childers of JLL.
About CBRE Group, Inc.
CBRE Group, Inc. (NYSE:CBRE), a Fortune 500 and S&P 500 company headquartered in Dallas, is the world's largest commercial real estate services and investment firm (based on 2021 revenue). The company has more than 105,000 employees (excluding Turner & Townsend employees) serving clients in more than 100 countries. CBRE serves a diverse range of clients with an integrated suite of services, including facilities, transaction and project management; property management; investment management; appraisal and valuation; property leasing; strategic consulting; property sales; mortgage services and development services. Please visit our website at www.cbre.com.